FEDERATION CINOLOGIQUE INTERNATIONALE
РОССИЙСКАЯ КИНОЛОГИЧЕСКАЯ ФЕДЕРАЦИЯ
Питомник RKF-FCI Kennel
* ANIGRES * & * YANKEE GOODWILL *
Представляем кобеля лабрадора ретривера из Англии
Introduce Labrador retriever from England
Чемпион России, Юный Чемпион России, Чемпион НКП, Юный Чемпион НКП
Rus CH, Junior Rus CH, Labrador Club CH, Junior Labrador Club CH
Linjor Xrated (imp. England)
"Beckham"
(ROCHEBY OLD SMOKEY х Sh Ch SISKIN DE LA VIGNE NIEUIL AVEC LINJOR JW ShCM)
02.04.2006
Bred by/Заводчик Linda Major, LINJOR (UK)
Co-Owners/Владельцы Sergey Khramov & Galina Motor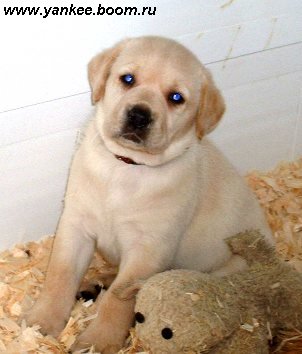 A Special Thank You to my Dear Friend Linda Major
of Linjor Labradors for this lovely boy!
Спасибо Вице-Президенту Уэльского Лабрадор ретривер Клуба Linda Major
за предоставленную мне возможность выбора щенка из этого помёта!

First photos of Beckham in Russia!!! Первые фото Бэкхэма в России!!!
Photos of Beckham in England! Фото Бэкхэма в Англии!
Galina Motor
Labrador Kennel RKF - FCI "YANKEE GOODWILL" Питомник лабрадоров RKF - FCI "ЯНКИ ГУДВИЛЛ"
Saint-Petersburg, Russia
e-mail: yankee-goodwill@bk.ru
© Yankee, 2006. Перепечатка материалов, статей, фотографий без согласия авторов сайта запрещена.